Laura the Land Rover, has been through a lot, since i first bought her back in the 1990's. Back then she was an old Land Rover, since then she has become a classic Land Rover.
So many of the mods have been dialled back, but not all has been returned to her original condition.
The plan from day one has always been that she should be enjoyed, and that any modification should be done in a way that didn't prevent her from being returned to an 100% original state.
She still has the same 3 bearing engine, as when she left the factory in Solihull, paired to the same gearbox, without syncromesh on 1st and 2nd gear.
The first overhaul (1993)
So when I bought her in 1993, she had been parked in a garden for some time, so she needed an overhaul of most of her mechanics, and her wiring had disintegrated completely.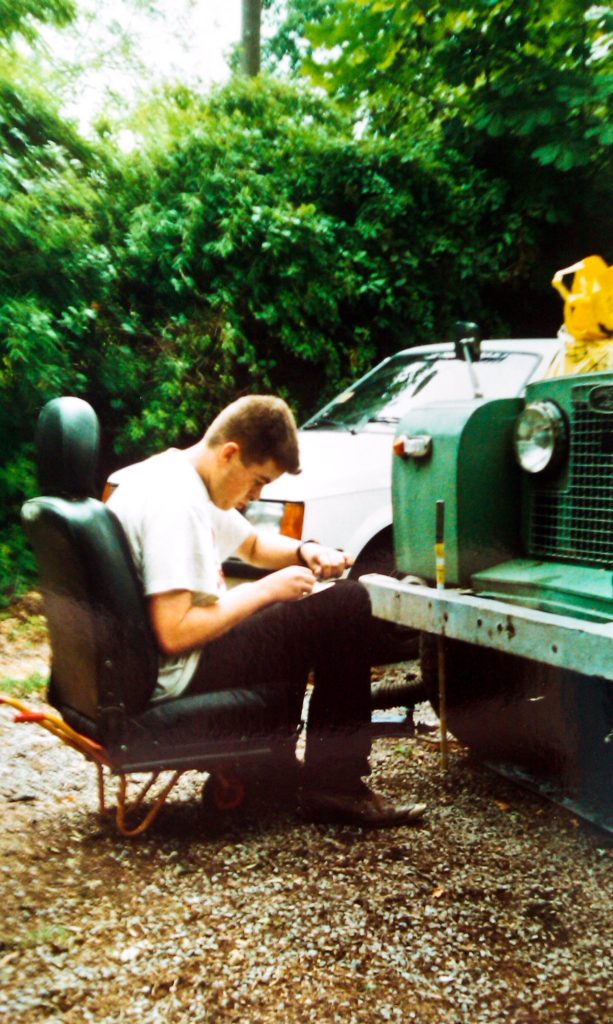 Chassis
The chassis got a light overhaul, and a bit of rust was repaired.
Body
Not much needed to be done here.
She just needed a bucket of soap and water.
The only thing we did with the body was remove the truckcab and the 3/4 cab fit hood.
Engine
The graveyard, who had bought her, back when Laura was brand new had her converted to dual fuel, and therefore she had two fuel tanks. The original petrol tank under the passenger seat, and a liquid gas tank in the front of the load bed.
We removed the gas tank, valves and wire loom, because it hadn't been serviced for an unknown series of years, and I wasn't sure it was safe to use.
The carburettor was tired, so it was replaced, and the large oil filled air filter was replaced by one from K&N.
Drive chain
A complete change of oil in gearbox, transfer-case and diffs.
The rear diff and a propeller shaft joint were warn, so a new joint was mounted and the diff was renovated.
Electrics
A good deal of wiring was redone, and all lights except the number plate lamp and cabin light were exchanged for new units.
The headlight reflectors were corroded, so they were exchanged with a set of new H4 compatible units.
The battery needed replacement, so I mounted the largest battery I could fit. As far as I can remember it was a 105 Ah battery.
Brakes
The brakes got a complete overhaul, with new brake lines and hoses.
1990's modifications
There were two reasons behind many of the early modifications.
I wanted to use her for off road driving, and I needed to pull a horsebox.
Rollcage
After removing the roof, I wanted a rollcage, in case of a roll over.
I did quite a lot of off-road driving and 45 degree angles in gravel pits, are not without risk.
I got a bespoke model from a local Danish company, specializing in rollcages.
Winch
I mounted a Ramsey Winch on Laura's front bumper, with the expectation of using it to get me out of sticky situations when driving off-road with the Danish Land Rover Club.
I ended up using it much more for dragging other people out of sticky situations. The snowstorm in 1994 it was used extensively to drag hatchbacks out of snowdrifts and ditches.
Off-road lights
I quickly found out that when driving offroad at night, having the headlights mounted in a recess, between the front fenders might protect them from being broken by branches, but at the same time protects the branches (and anything else) from most of the light.
Therefore I got four Hella Rallye 3000 lamps were mounted on the rollcage. Two normal floodlights and two narrow "Pencilbeam" lights. All four had 100W halogen bulbs in for off-road driving.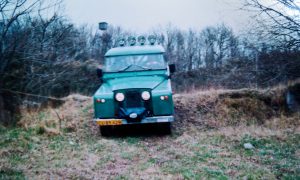 Alternator upgrade
Quickly after mounting the Rally lights and winch, I found out that the original dynamo was inadequate.
In it's place I mounted a large generator from an Audi 100
Defender mirrors
The small 1960's wing mirrors were seized, and too small/distant to be of use while revering the horsebox, so they were swapped for some more practical Defender mirrors.
Since Defender mirrors are mounted to the top door hinges, these too were swapped for Defender models.
Long time parking
Life happened, and Laura ended up parked in the yard.
A fellow Land Rover owner offered to buy her, and at first I refused to sell her. However I wanted to see her back on the road, so I ended up giving in, on the condition that he got her MOT'd and back on the road.
Despite his promises, he ended up parking her under a tree in his garden, and ended up buying another one that had a MOT.
Laura was forgotten, and ended up lighter than when she arrived.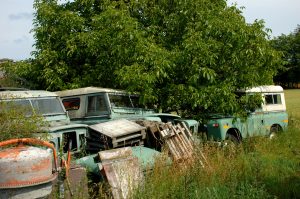 While she was parked there, somebody chose to sneak in and remove parts from her.
Getting Laura back home
My wife got tired of hearing me whine about Laura rotting away, and ended up saying "I could just take her back!"
Less than 30 minuites later I was out the door, out to undo our deal, and get Laura back home.
A friend with a trailer, and a barn helped me pick her up, and stored her indoors until I could get her home under our own roof.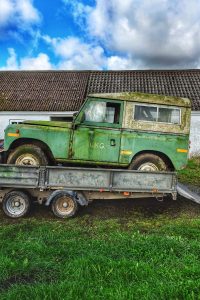 The garage was cleaned out, painted and ready for Laura to move in, and she was picked up from her long time storage, and transported back home on a trailer 🙂
She was cleaned up, and partly dismantled, before life happened again, and she again had to wait for better times. This time in a nice dry garage.
New garage
Laura has moved again. We have relocated, and of cause she has moved with us.