Back when I bought Laura in the very early 1990's, had a need for more information, than the gauges could give me.
She left the factory with the two standard gauges, and four warning lights:
100mm Jaeger speedometer with a 5 digit odometer, and a top speed of 120 km/h.
100mm Jaeger dual ampere metre, fuel gauge and a blue main beam warning light.
Oil pressure warning light (red)
Charging warning light (green)
Cold start/Choker warning light (orange)
In the top left corner a switch to turn the two incandescent bulbs (one in each gauge) on and off.
I didn't feel comfortable pulling a heavy horsebox or driving off-road without at least a temperature gauge and an oil pressure gauge.
Mounting only two 52mm gauges over the original pod looked strange, and while shopping for gauges I ended up buying a lot more than I expected. Not because I needed them, but because my accessory dealer was changing his display, so he offered me all those from the old display, for a fraction of the price.
I ended up coming home with a shopping bag full of gauges, sensors, relays, tubes, wires and mounts.
In stead of mounting only two lonely gauges, I ended up mounting 6, as they fit in the gap above. I didn't really need the clock, but it was the "sixth choice" that made most sense, and it was better than leaving an empty hole 😉
Above the gauges I mounted a row of switches and bulbs, for spotlights, reverse lamps, blinkers etc.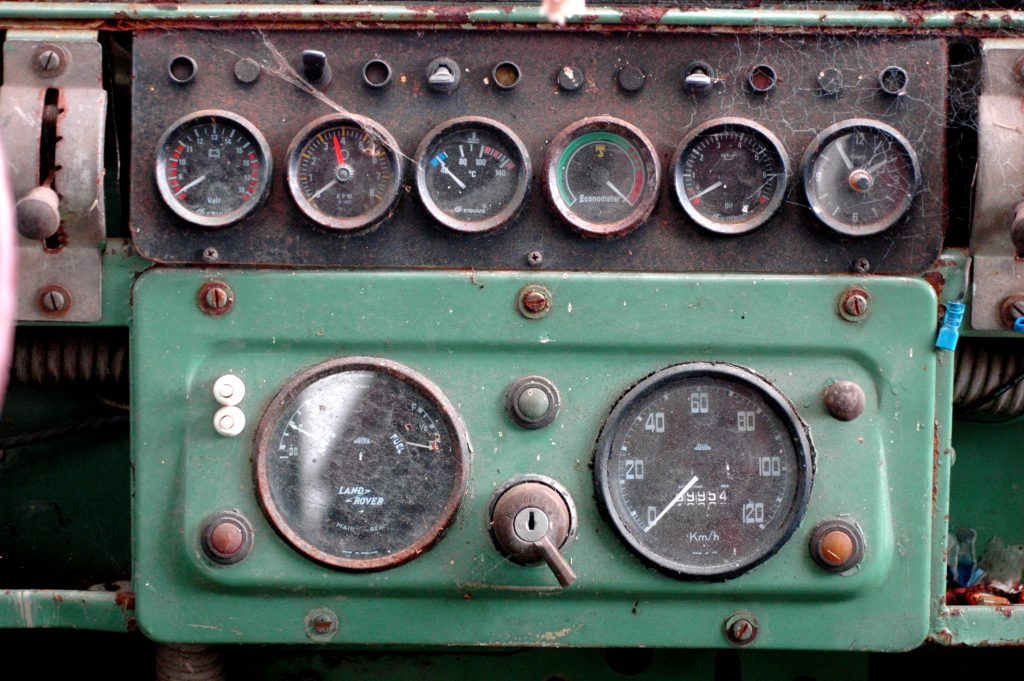 Have you changed, upgraded or modified the gauges in your classic car?
If so, please tell us what you mounted and why. Would you do anything different today?